theeducatorsspinonit.com – By Amanda Boyarshinov – March 12, 2019
My kids adore our backyard garden.  There are so many benefits to spending the time, money, and efforts to starting a garden with young children. This newest Garden Classroom resource will amaze you with the simple, easy to prepare hands-on activities in math, science, literacy, and art that you can do with your child to help them learn and grow while spending time outdoors.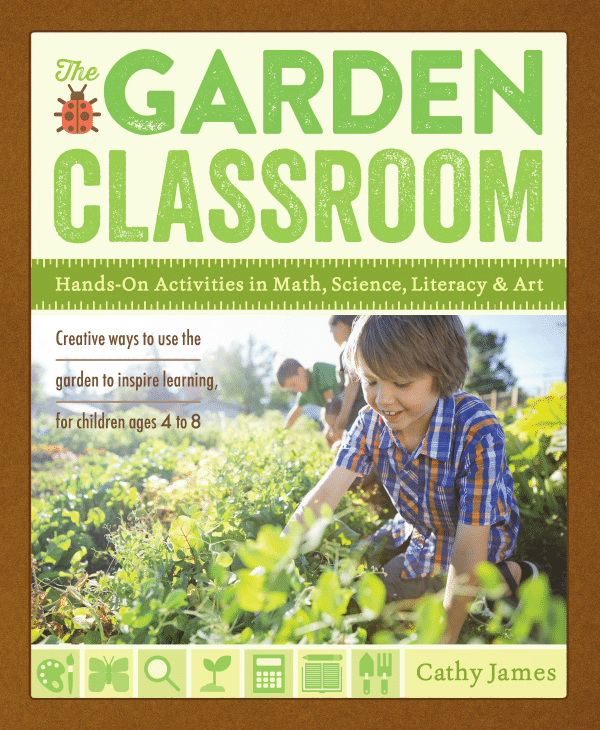 Cathy James has gifted me with this amazing resource, so that I could share it with you! THANKS! She is a hands-in-the-dirt kind of teacher that is always inspiring me to take our gardening to the next level.
Learning and Growing with Kids in the Garden
Often, we overlook the learning potential of a garden.  Yes, the benefits of gardening are numerous: from the natural produce harvest from the garden to the life lessons in responsibility.   But a garden can also take art, reading, math, and science and truly bring academics to life.
In our backyard garden:
If you love to spending time outdoors with your children, like I do, then I encourage you to check out the newest gardening book, The Garden Classroom: Hands-On Activities in Math, Science, Literacy, and Art by Cathy James.
As a an educational writer, I have had the opportunity to connect with others who are passionate about getting kids in the garden learning and growing. Cathy James, creator and author of Nurture Store has just released her newest book, The Garden Classroom: Hands-On Activities in Math, Science, Literacy, and Art. She is an advocate for fort building and hands-in-the-dirt learning.
This resource is a combination of how-to garden and how-to connect kids and acadmics in the garden. The activities are hands-on, outdoor based projects designed for young learners ages 4-8.
You will find cute garden activity ideas such as:
Mini Beast Bingo
Egg Heads and Tin Can Salons
Story StonesThe Garden Classroom: Hands-On Activities in Math, Science, Literacy, and Art
LOOK INSIDE THE GARDEN CLASSROOM BOOK: