Global Research, By Nick Meyer   March 08, 2019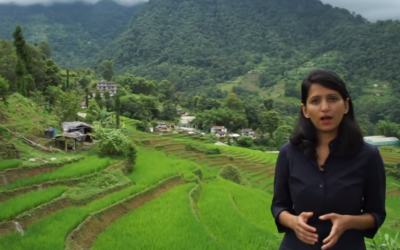 The organic movement has been seen as a fad and a trend by many, but others call it a necessity in a changing world where toxic chemicals are increasingly killing life from the bottom of the food chain up, including people as the story of terminally ill groundskeeper Dewayne Johnson demonstrated.
Organic agriculture is still a ways off from becoming truly mainstream in the United States, especially with companies like Bayer (now the owner of Monsanto) renewing their push for more pesticides and new technology-intensive methods of farming.
But even as the U.S. continues to approve new "longer-lasting" GMOs, harsh, toxic pesticides and other unnatural "innovations," other parts of the world are anteing up on organic farming like never before.
While these changes have been far from simple, places like the Himalayan state of Sikkim in India are making immense progress, helping to support the health of pollinators, human beings, and the environment in the process.
Indian state first go 100% organic
In January 2016, the state of Sikkim, in the shadow of the world's third-tallest peak Mt. Kanchenjunga, succeeded in becoming the first fully organic state in India, and probably the world. A few short years later, there are still plenty of kinks to be worked out, but the benefits are being seen first hand.
Bee populations are said to be rebounding, with plants dependent on bee pollination like cardamom providing much higher yields. Cardamom for example has risen by more than 30% since 2014, a reportfrom The Washington Post said.
Tourism to the region has also increased nearly 70% since the state went organic according to the BBC (see video below), and soil health has rebounded tremendously, as is usually the case when organic methods are applied. Marketed as an eco-friendly dream destination, the region boasts 500 species of butterflies, 4,500 types of flowering plants, and rare wildlife like the red panda, Himalayan bear, snow leopards and yaks.
The state also received a Future Policy Award 2018 at a UN ceremony in Rome, beating out 51 other nominees from 25 countries worldwide for best promoting agro-ecology.
While many farmers have struggled in the years following Sikkim's mandated switch to organic, they have also said that their crop yields have rebounded to what they were before the change. In response to the increasing signs of success, Indian Prime Minister Narenda Modi has recognized the state for its contributions and pledged further support for organic farmers throughout India.
Thus far, there have also been concerns about ineffectiveness of the bio-pesticides being used in place of synthetic ones, as well as rising prices and diseases affecting crops.
The state has also had to rely on conventional crops from West Bengal to help feed its population while farmers continue to learn how best to maximize yields with assistance from government programs.
But positive signs abound, as shown in the BBC report below.
VIDEO: Will organic revolution boost farming in India? – BBC News (2 min)
VIDEO: Dr Vandana Shiva: the example of Sikkim – 100% organic state (2 min)